Helping children reach their full potential
​

CALL US TODAY: 778-891-9427
Pediatric Occupational Therapy




Vancouver, British Columbia
Expertise in Pediatric Occupational Therapy
Throughout my career spanning over a decade as a pediatric occupational therapist in Canada and abroad I have provided occupational therapy assessment, treatment and consultation services to a variety of populations with varying challenges. These included children undergoing post-traumatic rehabilitation, children with special needs and children with mild to moderate gross and/or fine motor challenges.
A Passion for Children
Over the years I have developed a passion for assisting children, specifically those attending regular preschool or classroom environments, reach their full potential.
The occupational therapy treatment services and specially-designed programs are founded on the principal of engaging the child in activities that are fun and captivating both during sessions and at home. The sessions are conducted in a home-like setting, designed to provide a relaxed atmosphere.
Practice Approaches
Throughout my services, a blend of sensory-motor, perceptual-motor, functional and specific skill training as well as cognitive approaches are utilized to best fit the needs and challenges of each child.
The client-centered approach is fundamental to all interventions in my practice.
I believe that the client - child and parent(s) - should be active participants in setting goals and determining interventions that are meaningful for them, thus enabling the occupations that the child wants to, needs to, or is expected to perform.
You will find more on the results of these approaches and what other pediatric practitioners, teachers and parents say about my practice here.
Education and Professional Accreditation
My education includes formal training in Occupational Therapy (B.O.T) from the Faculty of Medicine at the University of Tel-Aviv (Israel) and extensive extra curricular training in a variety of subjects related to Pediatric Occupational Therapy, including courses covering sensory integration, learning disabilities, developmental cognitive approach for treatment, motor aspects of children with mild developmental delays, parental guidance and even child graphology.
In addition, I am continuously engaged in seminars and workshops to further my knowledge in the field and to keep abreast of latest research and developments in Pediatric Occupational Therapy and am an active participant in the CAOT/BC pediatric Special Interest Group (SIG) and SI SIG meetings.
I have been certified by the Canadian Association of Occupational Therapists (CAOT) and am a member in good standing with the College of Occupational Therapists of British Columbia (COTBC).
Personal Interests and Hobbies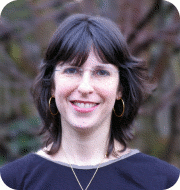 I have a passion for music having undergone extensive musical training playing classical guitar during most of my childhood years and awarded scholarships and an honorary conservatory diploma as a teenager. A professional career in music gave way to occupational therapy. My involvement in music is currently limited to recreational singing and dancing (ballet and folk dancing) at the local community centres.
In addition to raising my two daughters, my other passtime pleasures include exercising, ceramic sculpturing, creating mixed media art, watching European films or enjoying a home cooked meal with family and friends.